Review: 
Global Health Impacts of Nanotechnology Law: A Tool for Stakeholder Engagement by Ilise Feitshans gets my 5-star review. Brilliant writing. Health risks abound that bring threats and opportunities at work, play and in the home. Ilise provides readers, from those who are just curious to those with a seasoned scientific mind, with enlightened possibilities on how evolving, complex and far-reaching health risks
should be imagined and best managed. New and experienced occupational or public health pros should put this book on their reading list. Very informative and motivational! – Dan Markiewicz, Toledo, OH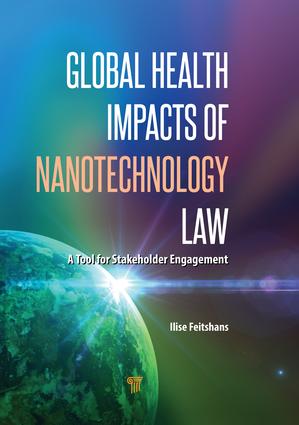 Book description: 
Small things add up: trillions of dollars of products applying nanotechnology have been marketed to consumers promising new medicines, strong packaging to protect goods from contamination, stronger eyelash mascara and long-lasting lipstick, construction materials for housing, cheaper energy, and new drugsto fight cancer.
Nanotechnology applications to consumer productsrepresent a huge slice of daily economic life,heralding a revolutionary age for science and technology.How can the benefits of nanotechnology be realized while protecting public health?
Global Health Impacts of Nanotechnology Law: A Tool for Stakeholder Engagement fills a major void in legal, scientific policy discourse about nanotechnology for people who are curious about nanoscience, bioethics, and law. The pioneering,plain-language textof Dr. Ilise L. Feitshans, international health law scholar and former international civil servant, enables readers to move comfortably across disciplines and explorehow nanotechnology can reshape both commerce and public health to improve daily life worldwide.